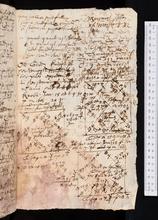 Question asked by Mr Tyrringham (PERSON18812) on 13 January 1605 at 09:00
RN Mr Tyrringhās mead of Tyrringhā 24 y Ian. 13 ☉ h. 9. ant m 1605. suffocat matricis strange fits eithr of mothr or apop. litharg.1
[Astrological Chart]
Notes:
1'
sleepy. Lethargye
speachles skreameth only
' in chart
Transcribed excerpt from MS Ashmole 415, f. 214r (upper right part of page)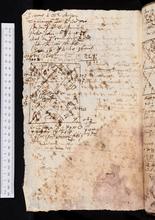 Question asked by Sir Anthony Tyrringham [Mr Tyrringham] (PERSON16621) on 16 January 1605 at 10:36
RN I went to Sr Anthony Tyrringhā Ia to see his servant yt lay strangly sicke Ian. 16. ☿ h. 10. 25|36| ant m I came thithr & did see her. in her fitte. Ian 16. ☿ h. 10. 36 ant m. 1605.
[Astrological Chart]
Transcribed excerpt from MS Ashmole 415, f. 214v (upper left part of page)