Question asked by the patient on 13 April 1601 at 19:30
RN we talked wth Mres Barnard \Mr Staffords daughtr/ touching her infirmiti where wth child or noe Apr 13 die {illeg}|☾| hor. 7. 30 p m. 1601
[Astrological Chart]
Transcribed excerpt from MS Ashmole 404, f. 74v, f. 76r (f. 74v bottom left, and f. 76r upper)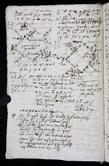 Question asked by the patient on 14 March 1603 at 09:00
RN Dna Smith 33 y. \of milton./ Martij 14. ☾ hor. 9. 10 ant m 16031
[Astrological Chart]
Notes:
1 'quære nū fuit gravida.' in chart
Transcribed excerpt from MS Ashmole 197, f. 4v (upper left part of page)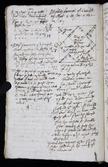 Question asked by the patient on 5 April 1603 at 11:12
RN Elisabeth fawnes of Cranfild 29. Apr 5. ♂ hor. 11. 12 ant m. 1603.
[Astrological Chart]
quærit the wheathr shee shall have children & the cause of her barrennes.
Transcribed excerpt from MS Ashmole 197, f. 19v (upper right, and bottom left parts of page)