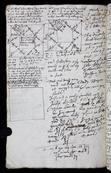 Question asked by the patient on 9 March 1620 at 10:30
RW Mris Laurence of Bedford. y. 47. d. ♃ h: 10. 30 ant: m: Martij. 9. 1620. ill a fortnight. tooke a vomite the last weeke of Mr Banister: will have no more of his counsell. Cannot sleepe. is loose full of death. & verie hot.
[Blank Astrological Chart]
Transcribed excerpt from MS Ashmole 213, f. 139v (bottom left part of page)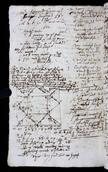 Question asked by the patient on 3 February 1622 at 10:00
RW Mr Edward Birckberd of Astwell \y. 50./ d. ☉. h 10. Feb: 3. 1622. had of late a swellinge in his thighes & leggs, wch was taken away by physicke purginge: since that his stomacke is gone: is verie weake: troubled wth a cough & drouth: cannot sleepe. RN a great difficulty of breath./ cānot rise out of his bed nor stand v nor restRW
[Astrological Chart]
RN Edw. Birckberd a spec serv vnto Sr George Sherly Mr Colins houshold physition.
Transcribed excerpt from MS Ashmole 231, f. 176v (bottom left, and bottom right parts of page)