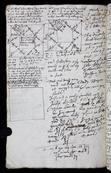 Question asked by the patient on 9 March 1620 at 10:30
RW Mris Laurence of Bedford. y. 47. d. ♃ h: 10. 30 ant: m: Martij. 9. 1620. ill a fortnight. tooke a vomite the last weeke of Mr Banister: will have no more of his counsell. Cannot sleepe. is loose full of death. & verie hot.
[Blank Astrological Chart]
Transcribed excerpt from MS Ashmole 213, f. 139v (bottom left part of page)

Question asked by the patient on 28 February 1635 at 09:45
SRN My Cozen Mrs. Clare wright of Southwark London Febr 28. ♄. h. 9. 45. a. m. 1635
[Astrological Chart]
A Iaundice thick yellow water. had a Iulep & an Electuary after a vomitt. this Last weeke had ye aduise of Dr Chamberlen who conceiues her payne & greife to proceed frō her brest. desire my Counsayle & directions.
Transcribed excerpt from MS Ashmole 412, f. 177v (upper left part of page)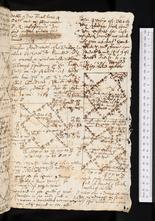 Question asked by the patient and Dr Spark (PERSON16013) on 9 December 1598 at 12:15
RN Iohn Phylip of Bletcley very extreeme sick bound & very Costive the last phisick would not work wth him as Doctr Spark writeth me, nowe again sendeth to me. this 9 of Decēbr die ♄. h. 12. 15. 1598. troubled wth the wind cholicke
[Astrological Chart]
[Astrological Chart]
Transcribed excerpt from MS Ashmole 228, f. 64r (upper right part of page)