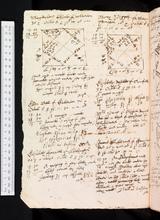 Question asked by the patient on 8 October 1602 at 12:15
GJ Mrs Price of Clyfton Raynes sent for a boxe of Conserve of gillyflowers & her water very blacke and muddy. Rec' 2s. ho 12. 15 ☉
Transcribed entry from MS Ashmole 221, f. 221v (bottom right part of page)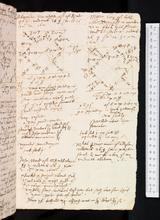 Question asked by the patient on 26 November 1602 at 13:00
RN Mres Price iunior of Clyften novemb. 26 ♀ hor 1. p m 1602. sent to me for a box of my cordiall electuary. 2s.
Transcribed excerpt from MS Ashmole 221, f. 253r (bottom right part of page)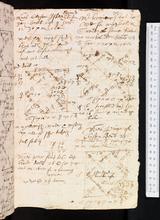 Question asked by the patient on 26 December 1602 at 07:15
RN Mres Price sent to be let blood decēb. 26 ☉ hor 7. 15 ant m. 1602. for a burning ague.
Transcribed excerpt from MS Ashmole 221, f. 275r (bottom left part of page)