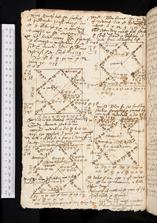 Question asked by Anonymous (PERSON17630) between 14 November 1598 and 15 November 1598
RN Will: Blea borne the 30 daye of Novemb. die ♂ h noctis \p. merid/ about h p m. 4. 1596. troubled every day with fits startling & skik stare & tok him it took him on tuesday last
[Astrological Chart]
Transcribed excerpt from MS Ashmole 228, f. 52v (upper right part of page)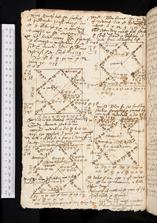 Question asked by Anonymous (PERSON17630) on 15 November 1598 at 10:30
RN Will Blea for his startling scriking. frighting & cannot take any rest Novemb. 15 die ☿ h 10 30. m. 1598.
[Astrological Chart]
It tooke him. the 7 of novemb die ♂ in the morning a litle before daye.
cōplayneth as well as he can of his chest belly & throote.
Transcribed excerpt from MS Ashmole 228, f. 52v (bottom right part of page)