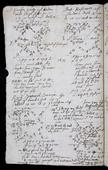 Question asked by the patient on 18 November 1606 at 08:30
RN Rich. Dawcok Dawson the bish of lincolns serv. 27 y novēb. 18. ♂ h 8. 30 ant m 1608|6| {sic} /1606.\.1
[Astrological Chart]
Notes:
1 'podagra chiragra' in chart
Transcribed excerpt from MS Ashmole 229, f. 6v (bottom left part of page)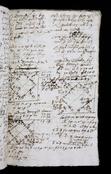 Question asked by Mr Richard Dawson (PERSON22840) and Mr Sterope (PERSON25572) on 18 November 1606 at 09:00
RN Mr Dawson the kep of my lords wardrope his serv. novēb. 18 h. 8. ant 30. ant m. 1606 for a gowte in his hāds & feete/
Mr Sterope the Registr  ascaridibꝯ. belly 32 y novēb. 18. ♂ h. 9. ant m. 1606.
Mr dawson & mr Sterope.
m|th|e {sic} lady Brooke
[Astrological Chart]
Transcribed entry from MS Ashmole 193, f. 26r (upper left, upper right, and bottom left parts of page)