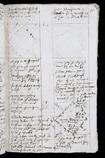 Question asked by the patient on 28 March 1603 at 14:00
RN fraincis Marcholl of Newport 26 y. martij 28. ☾ hor 2. p m. 1603. a poer widow womā yt hath 4 children.1
[Astrological Chart]
Notes:
1 'meate stoppeth in her stomacke.' in chart
Transcribed excerpt from MS Ashmole 207, f. 35r (bottom right, and bottom left parts of page)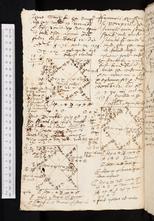 Question asked by Goodman Thomas Marshal (PERSON14014) on 12 December 1598 at 09:30
RN Frauncis Marshall of Newport very strangly can scarce speake, only maketh signes for water to coole her her mouth is furred white wth extreeme heate taketh her Drinke by a quill. first bound but yt I gave her vnbound her nowe in a laske & extreeme hot & drye Decēb. 12. die ♂ h. 9. 30. mi ant m 1598. troubled in her sleepe.
s {sic} husband  vxore sine cōsensu
[Astrological Chart]
Transcribed excerpt from MS Ashmole 228, f. 65v (upper right part of page)