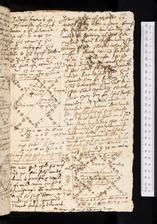 Question asked by Ralph French (PERSON11964) on 9 November 1598 at 11:30
RN Radolp: french. 46. s minister of Stock hamon. 9 of november. die ♃. h. 11. 45. 30. for his reume & his wife. arising frō his belly to his chest leeke led hard & hoven in his belly full of winde |1598|
an his wife an ach & gydines in her hed.
[Astrological Chart]
Transcribed excerpt from MS Ashmole 228, f. 50r (upper left part of page)
Question asked by Mrs Faith Sage (PERSON58116) on 7 October 1634 between 09:45 and 14:00
SRN Fayth Sage of High Lauer for a litenes in her head. & a papue in her Teeth & a trembling at her heart.
her Husband was taken with a payne in her|is| backe that he can hardly goe./.
Transcribed excerpt from MS Ashmole 412, f. 157r (upper right part of page)