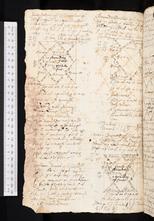 Question asked by the patient on 24 September 1599 at 08:00
RN William Iames of Castle Ashbee. 60|2| y. sept 24 die ☾ h. 8 ant m. 1599 for a payne in huckbone & knee shooting into his share. hath continueth on him this yere & feeleth it most after he hath worked on it a red coloured man.
Transcribed entry from MS Ashmole 228, f. 207v (bottom left part of page)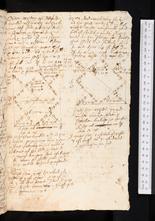 Question asked by the patient on 28 February 1599 at 10:15
RN Oliver Whiting of Bedford troubled wth an ach in huckbone left side taketh it to be a sciatica. & thenc to his back & inside of his share came wth a cold or a listing as he thincketh more hot & then cold. 60 yeres old. came him selfe the 28 of feb. die ☿ h. 10. 3 20|i5| ant m. 1599. Spencers brothr in lawe & farnewels brother.
[Astrological Chart]
Transcribed excerpt from MS Ashmole 228, f. 90r (upper left part of page)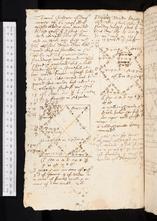 Question asked by the patient on 18 April 1599 at 07:00
RN Thomas Gardner of Dunsanger of 62 yeres old yt pissed blood & was mended by the herbꝭ yt I sent him in a receipte. sinc yt time had on Waly who hath wth his Clisters Done him litle good but is swollen in his belly wc is growen very harde. & mutch payned in his share & can make but a litle water halfe a sponefull at a time would knowe wheathr leekly to die or live. went not to ground sinc munday last about 12 a clocke sent to me this 18 of Apr. die ☿. h. 7. ant m 1599 burneth in his yarde.
[Astrological Chart]
Transcribed excerpt from MS Ashmole 228, f. 125v (upper left part of page)