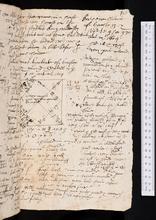 Question asked by the patient on 21 September 1604 at 09:10
RN Thomas Harburte of Hanslop. 40 y. maryed Septemb 21. ♀. hor 9. 10. ant m. 1604.1
[Astrological Chart]
Notes:
1 'animo magis quā corpore ægrotat. tempted.' in chart
Transcribed excerpt from MS Ashmole 415, f. 143r (upper left part of page)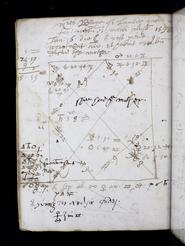 Question asked by the patient between 16 January 1598 and 16 July 1598
RN Mres Blage of Lambith quærit a for: morbū et morbi causā. 1598 Ian: 16. die ☾. h post merid. 9. ægrotabat aio, et habuit morbū dictū the mother.
[Astrological Chart]
Transcribed excerpt from MS Ashmole 182, f. 21v (upper part of page)