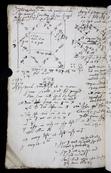 Question asked by Mr John More (PERSON54894) on 10 February 1632 at 15:00
TG jana {sic} RN \Iane/ Reding \of laten/ 11 annos nata prentise at Londen RN a swelling of her thighs & legs |mr Iohn Moore of Layton| craveth my consayleTG 1
[Astrological Chart]
Notes:
1 '1632. Febr. d. 10. h. 3. p M.' in chart
Transcribed excerpt from MS Ashmole 212, p. 436 (upper left, and bottom right parts of page)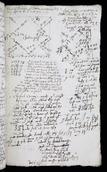 Question asked by the patient on 30 April 1630 at 17:45
U[1624–34] Michael Paradice of Potterne in Wiltshire 56. y. Apr. 30. ♀. h. 5. 45. p m. 1630
[Astrological Chart]
A Great winde runinge vp & downe sometimes betweene the Skin, sometimes in all places of the Body, sometimes in ye heade & sometimes swellinge downe into the twist & into the Codds, as yf hee were bursten, a great rumblinge & noise in the gutts, & is worst at the full of the Moone: many Phisitians haue tryed but none could doe him good ye winde is soe stronge, & prualent. hee desireth Counsell & helpe yf God bee soe pleased.
RN mich Paradyse.
Transcribed excerpt from MS Ashmole 194, p. 313, p. 312 (p. 313 upper left, and p. 312 bottom right)