Question asked by Hartley (PERSON31494) on 18 April 1615 at 10:25
RN Rich Hatley sodenly taken 26 of March ☉ h. 12. after noone 1615.
was taken wth an ach & lamel|n|es in his knee thigh & foote
[Astrological Chart]
Transcribed excerpt from MS Ashmole 237, f. 180r (bottom right part of page)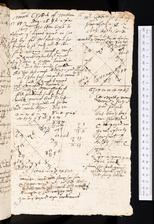 Question asked by Mr Chambers (PERSON28818) on 29 August 1618 at 14:00
RN Mres Chābers of Watton 57 |57| y Aug. 26. ☿ h. 2 p m 1618. she then begā to cōplayne of a great payne in her left leg. frō the foote vp to the thighes & so hath cōtinued ever since waxing worse & worse in great extremity of payne rising higher & higher towards her body boath legs mutch swelled but the left most. hath a good stomack.
[Astrological Chart]
Transcribed excerpt from MS Ashmole 230, f. 15r (upper left part of page)