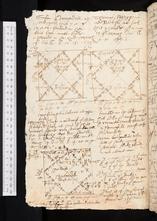 Question asked by the patient on 19 March 1599 at 16:20
RN Margery Clark a midwife of Stony stratford sick at hart yt shee cannot speake can scarce travell her thighes & legs doe swell. 51. a thick white puddle watr. March. 19. die ☾ h. 4. 20. m. p. m. 1599.
[Astrological Chart]
Transcribed excerpt from MS Ashmole 228, f. 105v (bottom left part of page)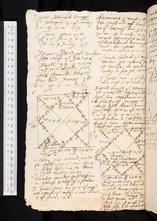 Question asked by the patient on 30 March 1599 at 14:00
RN Richard Langly of Newport 50 yeres old. short winded ever sinc Christmas can scars tak his breath. cougheth mutch red wth little fleume. came for him selfe this 30 of March die ♀ h. 2. p m. 1599. ague fallen to his thigh & knee & ham. butter annoynted helpeth his aches best.
[Astrological Chart]
Transcribed excerpt from MS Ashmole 228, f. 116v (bottom right part of page)