Question asked by the patient on 25 June 1614 between 14:40 and 19:25
GJ Mr Michaell Iermin Troubled wth wyndines Desyres something for it and for indigestion.
Transcribed entry from MS Ashmole 237, f. 35r (bottom left part of page)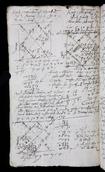 Question asked by the patient on 16 March 1629 at 08:30
RN Mr Anderton taken wth a fore flatulent melanch. passion wth a sore beating of his stomack ill after meate & after his first sleepe eating very litle at all tyme a bad Digest stomack full of wynd & choler was taken wth a sore fit Decēb. 11 ♃ h. 12. 30 p m. 1629|8|. 1628.
[Astrological Chart]
Transcribed excerpt from MS Ashmole 407, f. 86v (bottom left, and bottom right parts of page)
Question asked by the patient on 13 January 1603 at 12:30
GJ Mr Barton of Eastcote Ian. 13 ♃ ho. 12. 30 p. m. for a great windines of his stomacke weake Digestion, heavynes
Transcribed excerpt from MS Ashmole 221, f. 283r (bottom right part of page)