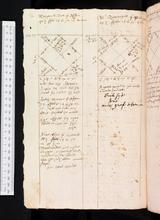 Question asked by Anonymous (PERSON18390) on 14 February 1603 at 12:15
GJ Iudith Meirret of Ashton 3 y. Febr 14 ☾ ho. 12 15 will not take any thing. forsakes the meat
Transcribed excerpt from MS Ashmole 221, f. 314v (bottom left part of page)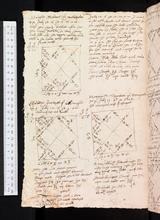 Question asked by Anonymous (PERSON18261) on 12 July 1602 at 09:00
GJ Elsabeth Iarvyes of Kempson ix y. Iulij 12. ☾ ho 9 a m. eates nothing but drinkes.
[Astrological Chart]
Transcribed excerpt from MS Ashmole 221, f. 133v (bottom left part of page)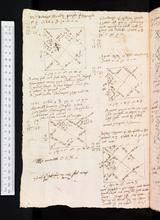 Question asked by Anonymous (PERSON18320) on 9 October 1602 at 17:45
GJ Goodwife Eusebyes Childe 3 yeere old for a scowring and vomiting will take no thing but drinke Octob 9 ♄ ho. 5. 45 p m.
Transcribed entry from MS Ashmole 221, f. 222v (upper right part of page)