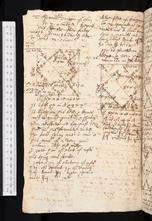 Question asked by the patient on 30 January 1600 at 12:00
RN Alce forde of betchampton 60 y. payned in her body went not to stoole twice this 2 monets taketh no thing. but drinke Ian 30 die ☿ h. 12.
she is swelled in her bodye. & very hot. wamblie in her bodye.
[Astrological Chart]
Transcribed excerpt from MS Ashmole 228, f. 261v (upper right part of page)