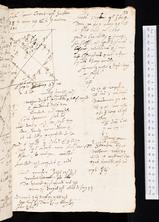 Question asked by the patient on 29 May 1620 at 10:00
RN Mr Stanton \56 y/ \Burchmore/ by Woburne May 29 ☾. h. 10 ant m 1620 {illeg}|e|yes troubled wth red
Transcribed excerpt from MS Ashmole 414, f. 53r (bottom right part of page)

Question asked by the patient on 7 June 1610 at 07:30
RN Spencer a mason working wth the lady Dickby. 50 y Iune 7 ♃ h. 7 {1} \30/ ant m 16i0 for his eyes1
[Astrological Chart]
Notes:
1 'eyes red hot' in chart
Transcribed excerpt from MS Ashmole 239, f. 59r (bottom left part of page)

Question asked by Lady Johnson (PERSON32147) on 16 October 1610 at 11:00
RN The ladye Ionnson of Calvrton octob for her eldest Daughter octob 16. ♂ h. 11. ant m 1610 /mes Mary\
[Astrological Chart]
mres mary Iohnson 28 ant of Calvrton octob 16. ♂ h. 11 ant m. 16i0. hed & eys red.
Transcribed excerpt from MS Ashmole 239, f. 141v (upper right part of page)