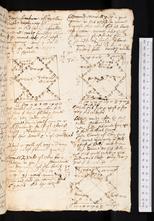 Question asked by the patient on 7 May 1599 at 12:45
RN Iohn Smith of Olny hath a great gryping in his chest & belly maketh him lye downe on his bellye & his guts creake & his ordure is bloody. may. 12 |7| die ☾ h. 12. 45.
[Astrological Chart]
Transcribed entry from MS Ashmole 228, f. 153r (bottom right part of page)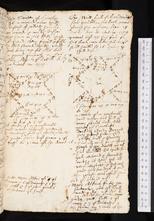 Question asked by the patient on 28 April 1599 at 10:00
RN Iohn Scriven of Hanslop. 46. a maried man had|th| a disease yt holdeth him as an ague. & mutch Disquiteth him in his belly chest & head. very faynt & feeble & Did sweate mutch could not tary vp frō his bed a great griping in his belly Ap. 28 die ♄ h. 10. ant m. 1599.
[Astrological Chart]
Transcribed excerpt from MS Ashmole 228, f. 144r (upper left part of page)