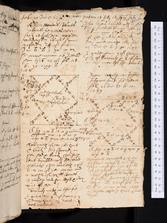 Question asked by Goody Margaret Marshal (PERSON14022) and Thomas Marshal (PERSON14015) on 25 February 1599 at 17:15
RN Margaret Marcholl & her husband came to me for some ease for her child of 15 yeres age 3 weekꝭ afore shrovetide. vppon a friday somewhat before daye. at 25 of feb: die ☉ h. 5. 15. m p m. 1599.
Transcribed excerpt from MS Ashmole 228, f. 86r (bottom right part of page)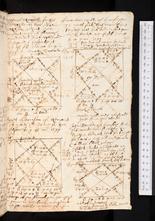 Question asked by Thomas Marshal (PERSON14015) on 27 February 1599 at 09:07
RN Thomas Marcholl for his daughter in law Alce Mason wthout her consent who is straingly handled Iane Warren suspected to bespeake it. 27 of feb. die ♂ h. 9. 7. 1599. Dorothy Sumner. suspected.
[Astrological Chart]
Transcribed excerpt from MS Ashmole 228, ff. 89r-88v (f. 89r upper left, and f. 88v bottom left)