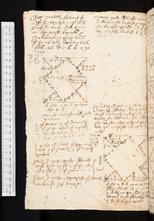 Question asked by Cowly (PERSON10985) on 27 February 1599 at 08:20
RN Elisabeth Rigot 18 y. servant to Cowly the Butcher sick this fortnight cōplayneth most of her hed keepeth her bed ever sinc satterday her master sent wthout her privity the 27 of feb. die ♂ h. 8. 20 1599.
[Astrological Chart]
Transcribed entry from MS Ashmole 228, f. 88v (bottom right part of page)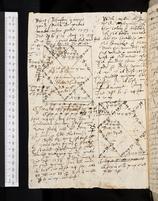 Question asked by Robert Robinson (PERSON15390) on 23 August 1598 at 08:15
RN Robart Robinson quærit quid sentiā de patris morbo inscio patre. 1598. die ☿ h. 8. 15. Aug. 23. 1598.
Transcribed excerpt from MS Ashmole 228, f. 17v (upper left part of page)