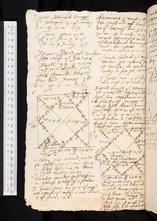 Question asked by the patient on 30 March 1599 at 14:00
RN Richard Langly of Newport 50 yeres old. short winded ever sinc Christmas can scars tak his breath. cougheth mutch red wth little fleume. came for him selfe this 30 of March die ♀ h. 2. p m. 1599. ague fallen to his thigh & knee & ham. butter annoynted helpeth his aches best.
[Astrological Chart]
Transcribed excerpt from MS Ashmole 228, f. 116v (bottom right part of page)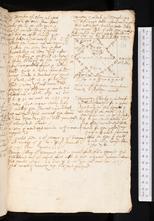 Question asked by the patient on 25 April 1599 between 09:43 and 10:30
RN Margery Clarke a midwife of Stony stratford for a great swelling in her thiges & bo legs yt on may see her face in it & so striketh vp to her harte ready to stop &|h|er winde. the bell went for her yesterdaye hath a great scouring this on her & hath had it a longe time.
Transcribed excerpt from MS Ashmole 228, f. 138r (bottom right part of page)