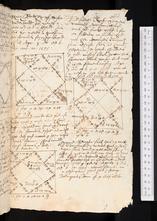 Question asked by the patient on 3 April 1599 at 09:15
RN Elisabeth Clarke 30 yeres vnmaried ever sinc Christmas hed backe chest a few on satterday on sunday had not her Courses currantly sinc Christ. sick at hart hoven in her chest. shoulders & hed. casteth black geare leek browne black paper leeke rags yt is her flowers arising. Apr. 3 die ♂ h. 9. 15. 1599. cannot rest in her bed hath a wonderfull red colour & is hot.
[Astrological Chart]
Transcribed entry from MS Ashmole 228, f. 120r (upper right part of page)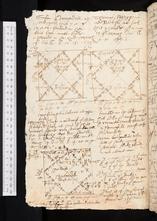 Question asked by the patient on 19 March 1599 at 16:20
RN Margery Clark a midwife of Stony stratford sick at hart yt shee cannot speake can scarce travell her thighes & legs doe swell. 51. a thick white puddle watr. March. 19. die ☾ h. 4. 20. m. p. m. 1599.
[Astrological Chart]
Transcribed excerpt from MS Ashmole 228, f. 105v (bottom left part of page)