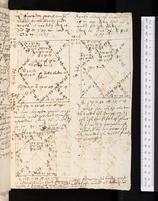 Question asked by the patient on 16 August 1598 at 08:56
RN Agnes leach of Caucot 68 y. any thing that is good for her stitche Aug: 16. die ☿ h. 8 56 1598
[Astrological Chart]
Transcribed excerpt from MS Ashmole 228, f. 16r (upper right part of page)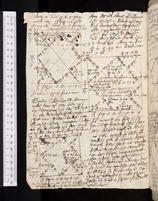 Question asked by the patient on 11 August 1598 at 08:49
RN Aig Agnes leach of Caucot the mothr in lawe of Malins Daughter. 68 yeres old. enquireth my counsell for her disease wc hath bene sick this 3 weekes. Aug. 11. die ♀. h. 8. 49 mi. ant m.
[Astrological Chart]
Transcribed excerpt from MS Ashmole 228, f. 13v (upper right part of page)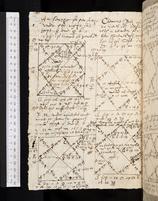 Question asked by the patient on 8 September 1598 at 11:00
RN An leache for her stitche vnder her right sid. Sept. 8 die ♀ h. 11. 1598. of Caucot 66 yeres old.
[Astrological Chart]
Transcribed excerpt from MS Ashmole 228, f. 27v (upper left part of page)