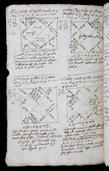 Question asked by the patient on 25 August 1608 at 11:00
GJ Mrs Susan Pedder of Potters perry 27 y. Aug: 25 ♃ ho. 11. a m. 16081
[Astrological Chart]
She sent for a purge. quęrit an sit gravida. had them last weeke hath great store of them.
Transcribed excerpt from MS Ashmole 229, f. 192v (bottom left part of page)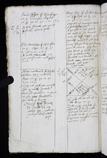 Question asked by the patient on 15 April 1603 at 11:40
GJ Alice woodward of Stoke Ham̄on. 33 y. maried Apr. 15 ♀ ho 11. 40 a m. 1603
Hath not had her courses this x weekꝭ quærit vtrū sit gravida. a payne at her hart, swelled in her body & Ioyntꝭ.
Transcribed excerpt from MS Ashmole 207, f. 52v (bottom left part of page)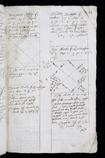 Question asked by the patient on 15 April 1603 at 12:30
GJ Margaret Allen of Denton. 3j y. \maried/ April 15 ♀ ho 12. 30 p. m. A great griping at her stomacke, spittes much Quærit vtꝝ sit gravida. had them not this 8 weekꝭ
[Blank Astrological Chart]
Transcribed excerpt from MS Ashmole 207, f. 53r (upper left part of page)