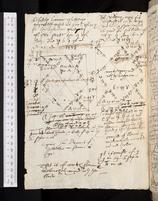 Question asked by the patient on 9 August 1598 at 09:36
RN Elisabeth Honour of Newp |of 50 y| enquireth what is good for the extreeme greeping of her hart the 9 of Aug. die ☿ h. 9. 36 m. 1598.1
[Astrological Chart]
Notes:
1 'sunt qui insimulant eā veneficij' in chart
Transcribed excerpt from MS Ashmole 228, f. 12v (upper left part of page)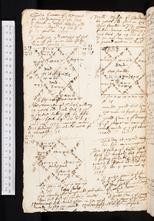 Question asked by the patient on 28 April 1599 at 08:15
RN Goody Honour of Newport for her greeping of her belly & hart. a white water cold & thin. Apr. 28 die ♄. h 8. 15. p|a|nt m. 1599.
[Astrological Chart]
Transcribed excerpt from MS Ashmole 228, f. 143v (upper left part of page)