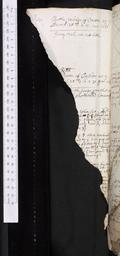 Question asked by the patient on 28 December 1633 at 12:00
U[1624–34] Martha Wakelyn of Croaton. 27. y. Decemb. 28. ♄. h. 12. mer. 1633
Is very weake can eate litle,
Transcribed excerpt from MS Ashmole 412, f. 61v (upper right part of page)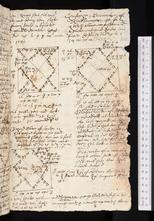 Question asked by the patient on 13 September 1599 at 15:06
RN Richard Sūner of lowten 23. his payne lyeth in his head. cannot sleepe nor goe to stoole eateth very litle is very weake. Septemb. 13. die ♃ h. 3. 6 p m. 1599.
[Astrological Chart]
Transcribed excerpt from MS Ashmole 228, f. 202r (bottom left part of page)