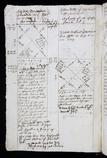 Question asked by the patient on 20 February 1603 at 17:00
GJ Ellen Robtꝭ of this towne at the same tyme
RN cōplayneth of her chest & stomacke tab. ij
Transcribed entry from MS Ashmole 207, f. 2v (upper right part of page)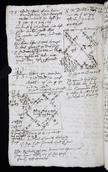 Question asked by the patient on 1 December 1603 at 08:40
RN Ellen Robartꝭ of our towne at the same tyme cōplayneth of her chest feareth chest wormes.
Transcribed entry from MS Ashmole 197, f. 114v (bottom left part of page)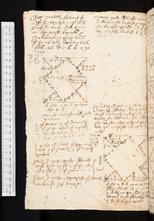 Question asked by the patient on 27 February 1599 at 08:30
RN Ellen Robarts at 8. 30 mi a stitch on her side & goeth downe to her flancke ready to stop her winde.
Transcribed excerpt from MS Ashmole 228, f. 88v (bottom right, and bottom left parts of page)