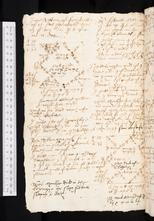 Question asked by Goody Joan Hutton (PERSON13092) on 23 May 1599 at 09:10
RN Ione Vtton of fennystratton of 53. sent her water this 23 of may. die ☿ h. 9. 10. ant m. 1599.
[Astrological Chart]
Iohn Vtton her husb: for a payne in his backe stomack. feareth an impost.
Transcribed excerpt from MS Ashmole 228, f. 170v (upper left part of page)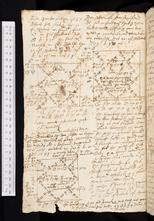 Question asked by Mr John Hutton (PERSON13089) on 25 November 1598 at 09:30
RN Ihon vtton of feny stratford 40 had a grudging this 3 yeres looketh well wth it & can travell & goe abroad came for my counsell this 25. of novemb 1598. h. 9. 35|0|. mi.
[Astrological Chart]
he enquired for his wife who is troubled wth a wind cholick & a great heate in her back
Transcribed excerpt from MS Ashmole 228, f. 56v (upper right part of page)