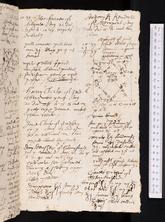 Question asked by the patient on 21 August 1600 at 11:15
RN Harry Clarke of Padberry 60 yeres. Aug 21 die ♃ h. 11. 15 ant m goeth vp & downe. maketh him weake./
Transcribed entry from MS Ashmole 202, f. 159r (bottom left part of page)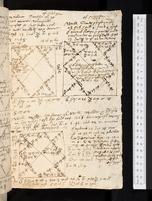 Question asked by the patient on 13 September 1598 at 08:00
RN William Smithe \of haversham./ of 30 yeres maried vnmaried supposeth he hath taken a cold he now walketh vp & downe Sept 13 die ☿ h. 8. ant m. 1598.
[Astrological Chart]
Transcribed entry from MS Ashmole 228, f. 28r (upper left part of page)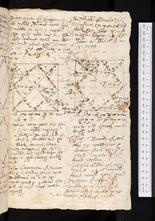 Question asked by the patient no earlier than 2 January 1599
RN Rich. Bandy of milton 38. walketh vp & Downe sick chest & hart. water of a good Colour.
Transcribed entry from MS Ashmole 228, f. 76r (bottom right part of page)