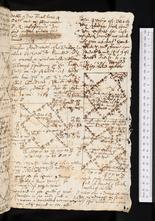 Question asked by the patient and Dr Spark (PERSON16013) on 9 December 1598 at 12:15
RN Iohn Phylip of Bletcley very extreeme sick bound & very Costive the last phisick would not work wth him as Doctr Spark writeth me, nowe again sendeth to me. this 9 of Decēbr die ♄. h. 12. 15. 1598. troubled wth the wind cholicke
[Astrological Chart]
[Astrological Chart]
Transcribed excerpt from MS Ashmole 228, f. 64r (upper right part of page)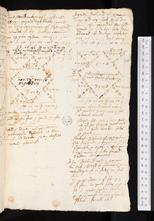 Question asked by Agnes Rutland (PERSON15542), Ambrose Rutland (PERSON15539) and John Rutland (PERSON15540) on 1 May 1599 at 12:10
RN Agnes Rutland of Newnton Longfild. 53. sick this day fortnight. payned in her hed harte & all the body over. cannot abide vp: costive onc in 2 or 3 days. maij 1. die ♂ h. 12. 10. m. 1599.
[Astrological Chart]
Ambrose Rudland of Newton her husband. a payne in his stomack & eyes. a Corpulent man & fully faced. eodem tempore/
Iohn Rutland wth a payne in his Chest & stomacke wyndye & a stitch in his syde
Transcribed excerpt from MS Ashmole 228, f. 146r (upper right part of page)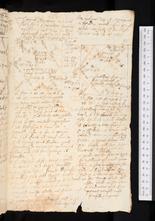 Question asked by Thomas Bartom (PERSON9520) and Bartom (PERSON9519) on 8 March 1599 at 09:10
RN Thomas Bartom. 15 yeres sick this 5 weekes. nothing will tary wth him for this fortnight lyeth in his hed light headed. Martij 8. die ♃. h. 9. 10. 1599. at Newport.
[Astrological Chart]
his fathr moved a question at the same time or a quartr after 9. for a payne in his knee wc was broken his thigh was broken quite thorough & nowe the paine is fallen into his knee pan & is swollen.
Transcribed excerpt from MS Ashmole 228, f. 95r (upper left part of page)