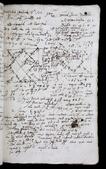 Question asked by the patient on 30 December 1632 at 18:00
RN Nicholas Seabroke |30 y| Sr Rob Nas mā |30 y| troubled wth red specks all over his body wth an itch waterish of a sanguyne cōplex on Decēbr 30 ☉ h. 6 p m 1632 sanguyne & plethorick
[Astrological Chart]
Transcribed excerpt from MS Ashmole 214, p. 239 (upper left part of page)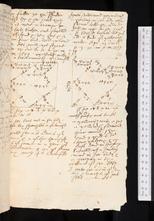 Question asked by the patient on 23 April 1599 at 14:50
RN Amy fuller 30. her \right/ shoulder right leg. & her hand hath as it were a crampe & of late broken out. swelled & blistered & very hot & a thin face but well coloored her toes will not styrre Apr. 23. die ☾ h. 2. 50. m p m. 1599. whitsontide wilbe a twelmoneth. of Cranfild.
[Astrological Chart]
Transcribed excerpt from MS Ashmole 228, f. 134r (upper left part of page)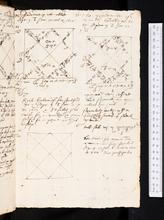 Question asked by Richard Holman (PERSON12862) on 3 April 1602 at 14:00
RN Rich Holmā of fæny stratford 30 y Apr 3. ♄ hor. 2. p m 1602. & Elisabeth his wife for a canker & him selfe for a payne in his instep.
[Blank Astrological Chart]
Transcribed entry from MS Ashmole 221, f. 26r (bottom left part of page)