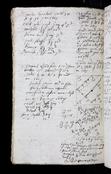 Question asked by Anonymous (PERSON26477) on 5 October 1607 at 17:00
RN Wylliā Child of Wa \Abbats/ langly 21 y Octob. 5 ☾ h 5 p m. 1607.
hed mynd set vppon a wentch cōtrary to his fathr & mothers mynd & is gone a myle frō h|t|hem. on a mynisters Daughtr his mynd is set.
Transcribed entry from MS Ashmole 193, f. 291v (upper right part of page)