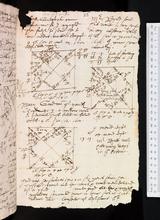 Question asked by Mr Richard Napier [Sandy] [Richard Napier [Senior]] (PERSON5218) on 4 October 1602 between 11:00 and 13:20
RN Mr Byrd sent his water to my house in my absence Octob 4 ☾ hor 10. 30 ant m 1602. I came home about xj.
full of swelling & aches in his lyms.
[Astrological Chart]
Transcribed excerpt from MS Ashmole 221, f. 215r (upper right part of page)