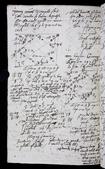 Question asked by the patient on 25 September 1612 at 07:25
RN young mres Temple sent her water to know wheathr she be wth child or noe Septēb. 25 ♀ h. 7. 25 ant m 1612.
[Astrological Chart]
Transcribed excerpt from MS Ashmole 409, f. 175v, f. 176r (f. 175v upper left, and f. 176r upper left)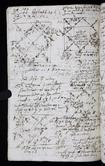 Question asked by Sir Thomas Peniston [Mr Peniston] (PERSON34221) on 28 October 1615 at 18:30
RW Sr Tho: Peniston. d. ♄ h: 6. 30 p: m: Octob: 28. 1615. Vtrum sit gravida, nec ne?
[Astrological Chart]
Transcribed excerpt from MS Ashmole 196, f. 138v (upper right, and bottom left parts of page)

Question asked by the patient on 18 August 1619 at 17:00
RN Mr Spicer sent to know wheathr wheathr {sic} fælix futurū sit cōiuger' intr \cū/ filiā D Poe & wth all he sent me a rundlet of livr wyne about 3 gallons & a hat band Iul Aug 18 ☿ h 5. p m 1619
[Astrological Chart]
Transcribed excerpt from MS Ashmole 235, f. 156v (upper right part of page)