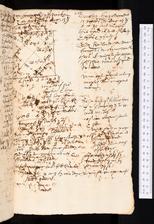 Question asked by Goody Jays Rutland (PERSON15545) on 13 August 1606 at 10:30
RN Dorothy Hazelwood 15 weekes old Aug 13 ☿ h. 10. 2|3|0. ant m 1606. this child is full of bleatch & byles & pyneth.
Goody Rutland her Nurce brought her own watr that I might see wheathr shee was wth child or noe /
Transcribed excerpt from MS Ashmole 215, f. 247r (upper right part of page)

Question asked by Goody Cooper (PERSON29360) on 1 June 1610 at 08:00
RN Goody Coo \of newport/ 40 y. Iune 1. ♀ h. 8 ant m 16i0.
every where./ cānot rellish any water.
Thomas Wythers of newport 3 quarters old Iune 1. ♀ h. 8 ant m 16i0
a great cold extreeme sick cā eate or take any thing
[Astrological Chart]
Goody Coo quærit an sit gravida cānot rellish anye thinge. ill this moneth.
Transcribed excerpt from MS Ashmole 239, f. 51v (upper right part of page)