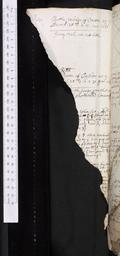 Question asked by the patient on 28 December 1633 at 12:00
U[1624–34] Martha Wakelyn of Croaton. 27. y. Decemb. 28. ♄. h. 12. mer. 1633
Is very weake can eate litle,
Transcribed excerpt from MS Ashmole 412, f. 61v (upper right part of page)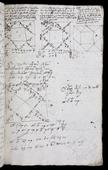 Question asked by Matthias Conny (PERSON19343) on 24 February 1620 at 10:15
RW Mr Matthias Cōny of Newport for his daughter Francis. y. 4. d ♃. h: 10: 30 \15/. ant: m Feb: 24. 1620. eateth nothinge: is verie faynt & weake./ had a little of diaprunis wch brought away ij wormes.
[Astrological Chart]
Transcribed entry from MS Ashmole 213, f. 137r (upper centre part of page)