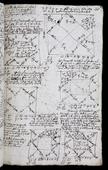 Question asked by the patient on 28 February 1620 at 10:40
RW Iohn Amyas of Southhill in Bedford sheire. y. 65. d. ☾. h: 10. 40 ant. m: Feb. 28. 1620. ill sinc Tuesday \Fryday/ last. cannot vomite nor goe to the stoole. Eateth nothinge: drinketh sometimes. Cryeth out of his body; sleepeth not.
[Partial Astrological Chart]
Transcribed entry from MS Ashmole 213, f. 138r (middle left part of page)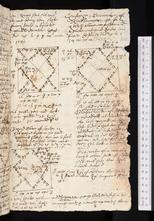 Question asked by the patient on 13 September 1599 at 15:06
RN Richard Sūner of lowten 23. his payne lyeth in his head. cannot sleepe nor goe to stoole eateth very litle is very weake. Septemb. 13. die ♃ h. 3. 6 p m. 1599.
[Astrological Chart]
Transcribed excerpt from MS Ashmole 228, f. 202r (bottom left part of page)